It's been a couple of years since Creality turned their collective hand to laser engraving machines with the release of the Falcon laser engraver. The Falcon laser engravers turned out to be very successful, so to follow on that success, the company has recently launched their Falcon 2 laser engraver range, offering higher quality machines with enhanced laser engraving (and cutting) capabilities.
In this article, we will be taking a look at the Falcon 2 laser engravers, and seeing what is on offer from the new range.
Three New Models
Creality is known for producing laser engravers that meet rigorous performance standards, boasting user-friendly aesthetics and budget-friendly affordability. The Creality Falcon2 series encompasses three laser engraver models, each crafted to cater to diverse user requirements (and pockets). This ensures widespread appeal, catering to both novices and experienced professionals alike.
Creality Falcon2 12W: Pocket-friendly Laser Engraving
First up, let's take a look at the entry-level of the Falcon 2 range, the cost-effective Falcon2 12W.
Setting itself apart from typical 10W laser engravers in the market, this product shines through three notable enhancements: an advanced air-assisted system, a triple-intelligent system, and effortless plug-and-play usability. These upgrades ensure an unparalleled user experience, setting a new benchmark that surpasses the capabilities of most existing laser engravers.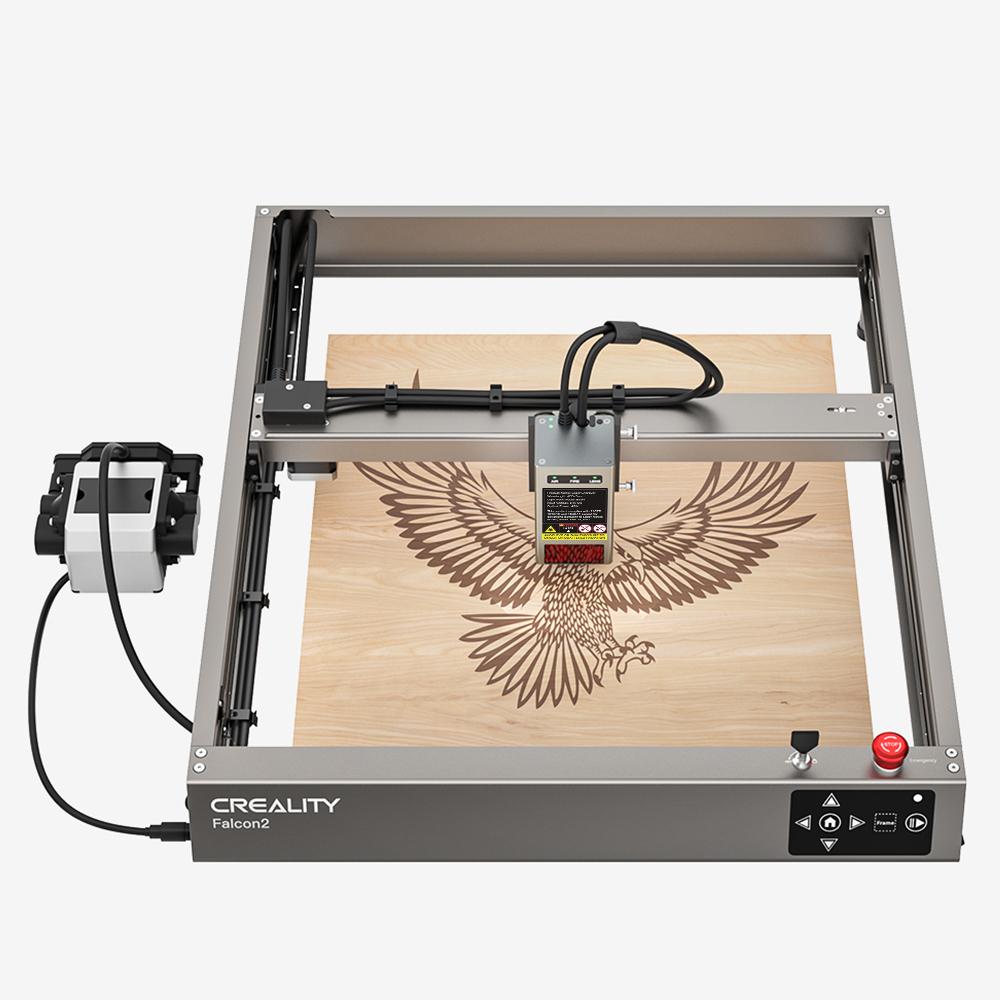 Boasting an exceptional configuration, the 12W laser engraver variant stands out not only for its superior features but also for its remarkably affordable price point. This makes it the ultimate selection for users seeking exceptional value without sacrificing enhanced functionality.
Availability
You can get the Falcon 12W at the Creality Official Store (and enjoy 20% off with the code: FN12W)
You can also get it at the Creality Amazon, and get 20% off with the code 20FALCON.
Creality Falcon2 22W: Versatility On Your Desktop
The Creality Falcon2 22W is the next in the lineup, striking a balance of performance, versatility and cost. It is engineered to cater to a broad spectrum of individuals, spanning novices, seasoned practitioners, and small business proprietors.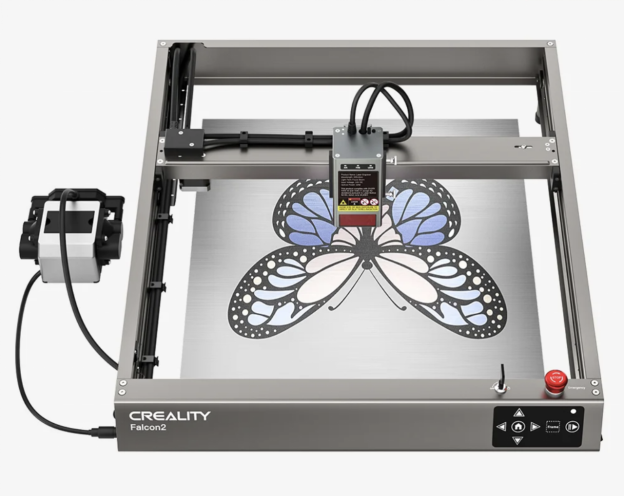 Harnessing a 22W power output, this engraver adeptly tackles a diverse array of tasks. The Falcon2 22W boasts integrated air assist, ensuring operational security while streamlining usage intricacies. Notably, users will find assurance in the presence of five safety features and a pre-assembled frame, which collectively contribute to a seamless experience.
Moreover, the 22W version is capable of an engraving speed of 25,000mm/min similar to the larger version we will look at next. While it has a lower power than the 40W beast, it still has the ability to carve through 15mm of wood material in a solitary sweep.
The expansive scope of applications further enhances its allure, rendering it suitable for an eclectic range of user categories. From DIY aficionados and educators to vloggers, influencers, 3D printing enthusiasts, and individuals seeking to imbue their jewelry with a personalized touch, this machine accommodates diverse aspirations.
Availability
You can get the Falcon 22W at the Creality Official Store (and enjoy 15% off with the code:FN22W)
You can also get it at Amazon, and get 15% off with the code 20FALCON.
Creality Falcon2 40W: Powerful and Vibrant
Finally, we arrive at the Creality Falcon2 40W, the pinnacle of laser engraving prowess within the product range. It transcends mere utility, emerging as a transformative tool that redefines the boundaries of laser engraving capabilities. The standout highlight lies in its remarkable 40W power output that empowers it to effortlessly carve through 20mm of wood in a single pass, a feat hitherto unprecedented in the realm of desktop laser engravers.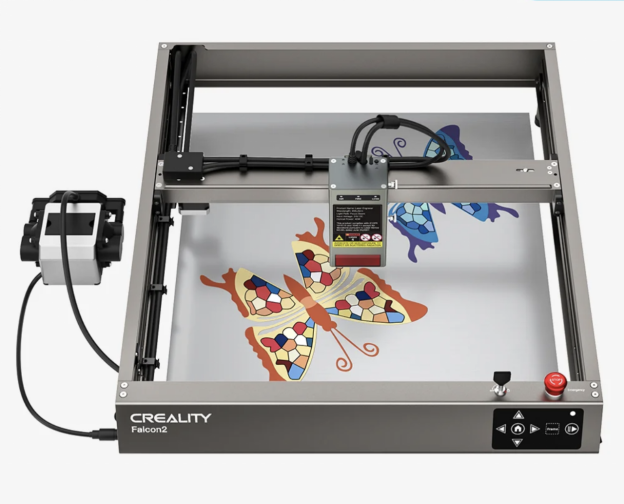 However, its truly unique feature lies in the ingenious adjustable beam spot. This addition allows users to manipulate the laser's focal point, imparting an adaptability for intricate detailing or commanding high-power incisions. The Falcon2 40W maintains an unwavering commitment to safety, employing a triple-tiered monitoring system and integrated air assist to ensure a secure and worry-free user experience.
Notably, the Falcon2 40W introduces an element of vivacity to your creative projects with its enchanting and vibrant color engraving function. This captivating feature infuses an additional layer of aesthetic allure into your artistic endeavors, causing them to radiate with distinction.
Positioned at the zenith of the laser engraving hierarchy, this robust machinery is tailor-made with the discerning professional creator in mind.
Availability
You can get the Falcon 40W at the Creality Official Store (and enjoy 20% of with the code:FN40W)
You can also get it at the Amazon store, and get 20% off with the code 20FALCON.
Original Falcon Series
Let's not forget the original Falcon printer series, which are still available if you would like to dip your toe in the laser-cutting pool.
Creality CR-Laser Falcon 5W: Perfect for Starters
Tailored for newcomers, the CR-Laser Falcon 5W emerges as an introductory laser engraver. However, don't be deceived by its 'beginner-friendly' label. It remains an adaptable piece of kit, achieving intricate engravings effortlessly.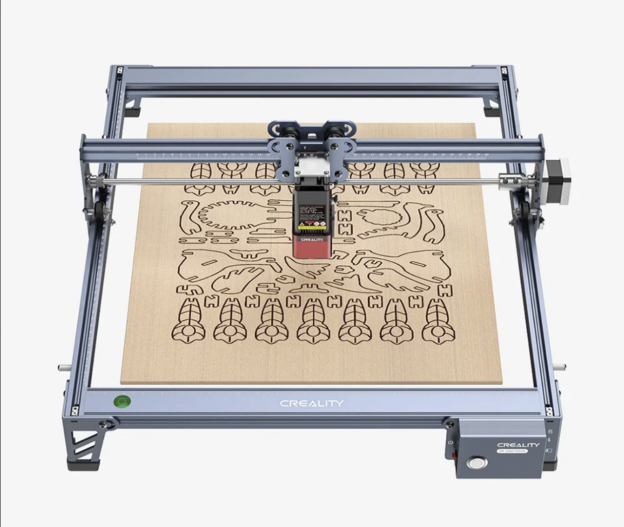 Capable of engraving and cutting across a spectrum of over ten materials like wood, bamboo, rubber, leather, fabric, plastic, and paper, this machine becomes an exceptional asset for individuals eager to embark on a laser engraving journey and unravel its endless potential.
Availability
You can get the CR-Laser Falcon 5W at the Creality Official Store (and enjoy 10% off with the code:FN5W)
You can also get it on Amazon and get 10% off with the 20FALCON code.
Creality CR-Laser Falcon 10W: Affordable and Capable
The CR-Laser Falcon 10W is a laser engraving machine ideal for beginners, yet its capabilities extend beyond the designation of "beginner machine". Despite being user-friendly, it offers exceptional precision and effortless engraving. It is capable of engraving and cutting over ten diverse materials, such as wood, bamboo, rubber, leather, fabric, plastic, and paper. This wide range of applications makes it an excellent choice for individuals interested in entering the realm of laser engraving and discovering its potential.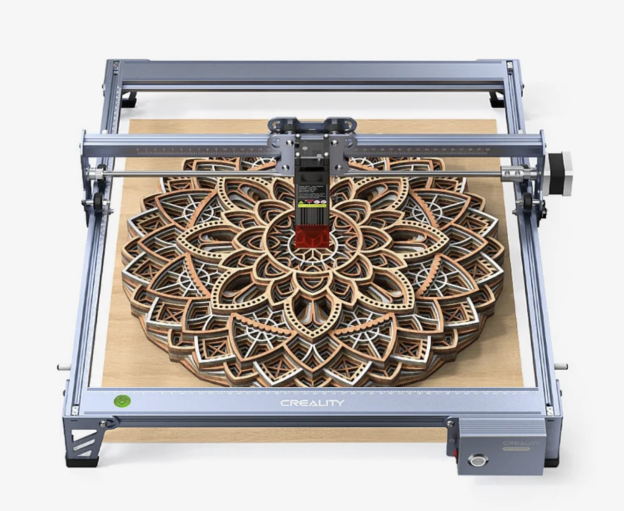 The features of the CR-Laser Falcon 10W include its spacious work area spanning 400x415mm and a compressed laser spot measuring 0.06mm. This generous working space permits users to handle larger material pieces without the need for constant repositioning. Despite its lower power rating, this machine can cut through 12mm of wood in one pass, rivaling some higher-powered engravers.
For added versatility, an optional extender can elevate the engraving height to around 150mm. This extender enables users to engrave on more sizable objects such as guitars or skateboards, broadening its range of applications. It serves as the perfect companion for hobbyists or creators seeking to explore the artistic potential of laser engraving technology.
Availability
You can get the CR-Laser Falcon 10W at the Creality Official Store (and enjoy 10% off with the code:FN10W)
You can also get it on Amazon and get 10% off with the 20FALCON code.
Go Forth, and Engrave…
So there we have it, three great new laser cutters from the 3D printing giant that is Creality. To help you choose which version you would like, why not become a part of the Creality Falcon Official User Group and delve into a showcase of impressive projects crafted by fellow Falcon enthusiasts.
Come and let us know your thoughts on our Facebook, Twitter, and LinkedIn pages, and don't forget to sign up for our weekly additive manufacturing newsletter to get all the latest stories delivered right to your inbox.
منبع: https://3dprinting.com/news/crealitys-falcon-2-range-quality-laser-engraving-for-all/