Star Wars fan and AI enthusiast Goran Vuksic has combined 3D printing and the NVIDIA Jetson Orin Nano Developer Kit to create a pit droid, a beloved bot from the film series that repairs and maintains podracers.
Vuksic, originally from Croatia but now based in Sweden, has used his spare time as an engineering manager to upgrade the droid's capabilities, making it an engaging demo at tech conferences across Belgium and the Netherlands.
As a member of NVIDIA Inception and Jetson AI Specialist, Goran has been involved in AI and IT for over a decade. He was inspired by sci-fi films and has always imagined robots interacting with the real world.
The pit droid project took him four months, involving 3D printing and equipping the bot with the Jetson Orin Nano as its brain. The tiny kit provided impressive real-time processing power to handle the camera feed, and Goran utilized Microsoft Azure for object-detection training in the cloud.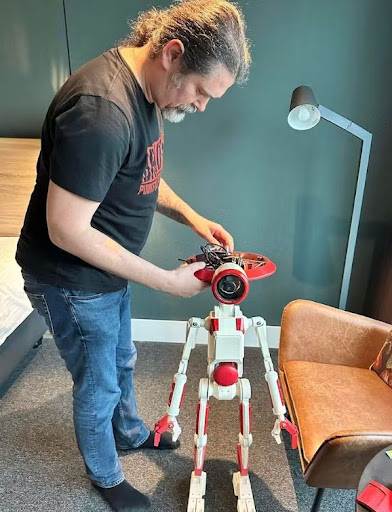 Goran's passion for robotics and AI is infectious, as he takes the pit droid to tech conferences to engage with audiences and inspire others to build similar projects. He believes that the future is filled with connected and automated devices, and robots will play a crucial role in assisting humans with various tasks.
"My favorite part of the project was definitely connecting it to the Jetson Orin Nano, which made it easy to run the AI and make the droid move according to what it sees," said Vuksic.
"The most challenging part was traveling with the droid — there was a bit of explanation necessary when I was passing security and opened my bag which contained the robot in parts- I said, 'this is just my big toy!'"
For the sake of humanity, let's hope that his next projects do not draw inspiration from The Animatrix movie, or from the Detroit: Become Human video game.
But if you would like to print and program your own (harmless) pit droid, then you can find detailed instructions on how to do so, over at this link.
Come and let us know your thoughts on our Facebook, Twitter, and LinkedIn pages, and don't forget to sign up for our weekly additive manufacturing newsletter to get all the latest stories delivered right to your inbox.
منبع: https://3dprinting.com/news/star-wars-fan-prints-functional-pit-droid/