A few months back, we wrote about the release of the CR-Scan Ferret 3D scanner from 3D printing giant Creality. Now, the company has announced the latest 3D scanner in their portfolio, the upgraded CR-Scan Ferret Pro, which offers a whole slew of new features and advancements over previous models.
Let's take a look at what the new CR-Scan Ferret Pro has to offer!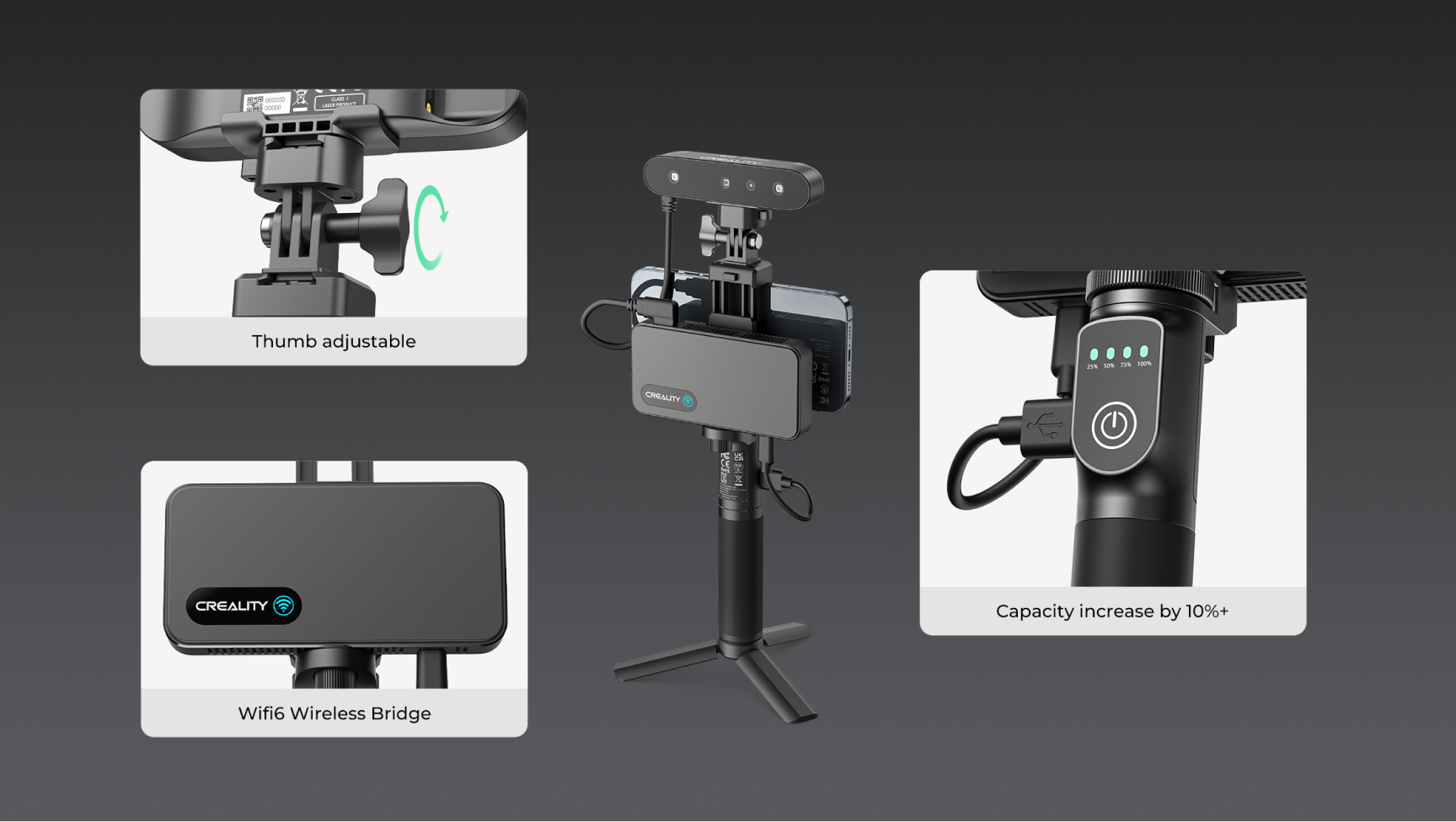 Overview
Like its predecessor, the CR-Scan Ferret Pro is compact and portable, weighing only 105g making it easy to carry anywhere. Take it to work, or take it to the museum, and you can even take home your favorite sculpture as a special keepsake.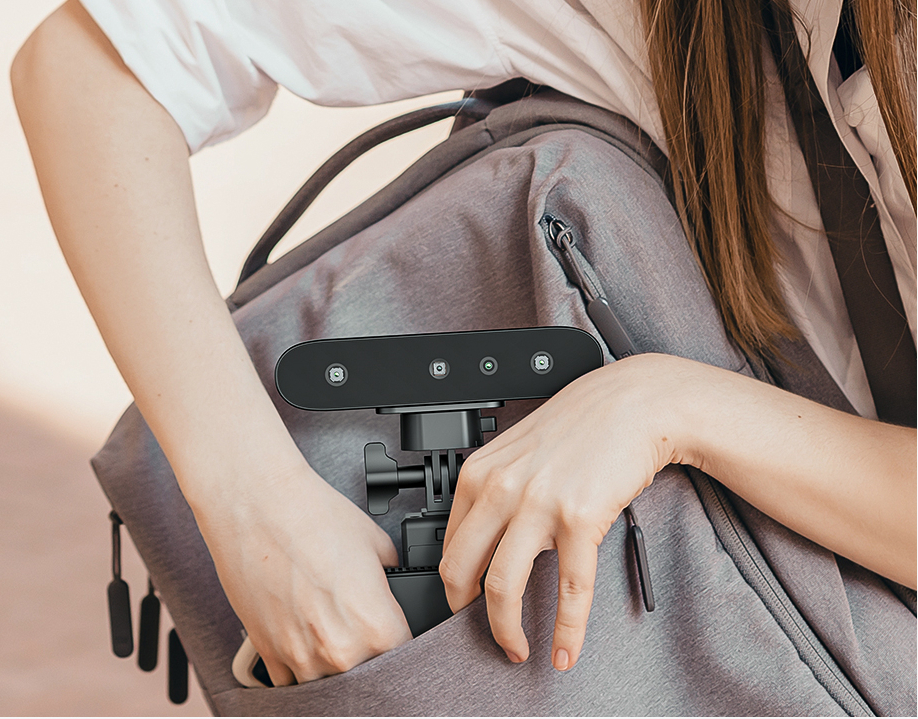 With just one click, you can effortlessly model after scanning without complex scanning knowledge. Novices can quickly get started on scanning tasks and swiftly obtain the desired 3D geometry. With the upgraded Ferret Pro, users can effortlessly generate precise, print-ready 3D models of virtually any object without requiring time-consuming manual creation in complex 3D modeling software.
Featuring an easy-to-use UI, and all-in-one scanning and editing, the CR-Scan Ferret Pro has been designed with usability in mind. It exports as easy to share STL, OBJ and PLY file types and they are compatible in all leading 3D software packages.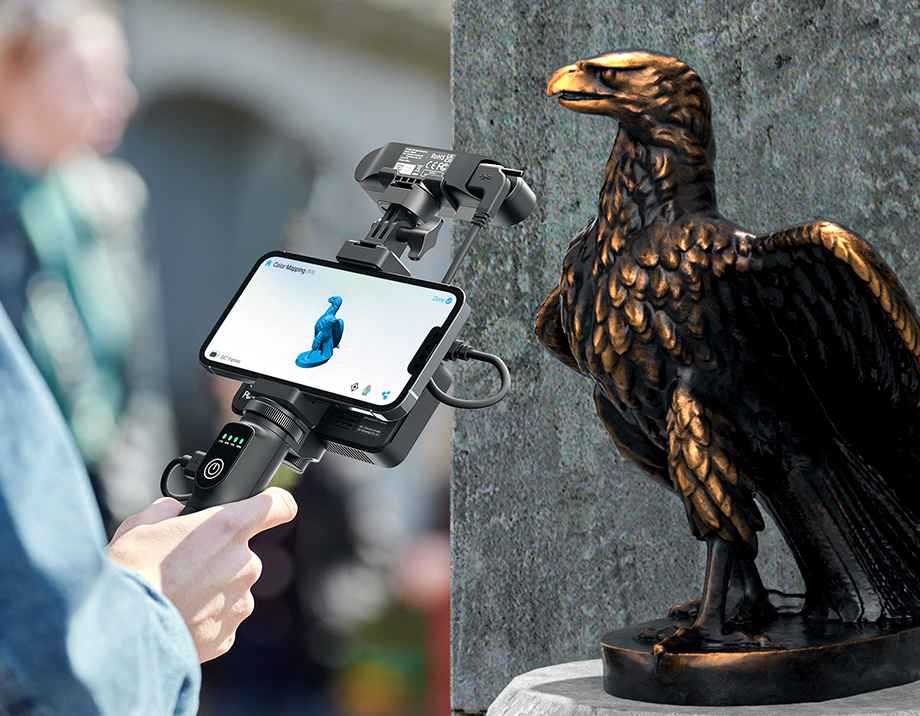 Features
The new Ferret Pro comes with a few new upgrades over its predecessor, including 24-bit full-color scanning enabled by its built-in 2MP high-resolution color camera. With this hardware users can capture full-color 3D models, displaying the original colors and bringing every intricate detail to life. In addition, a unique face mapping algorithm allows the capture of detailed features when scanning human faces.
In addition, there is a new anti-shake tracking feature that allows one-shot 3D imaging, creating smooth scans, even with shaky hands, dramatically increasing the scanning success rate.
One of the biggest new upgrades is the inclusion of a WiFi6 wireless bridge. Using the most advanced WiFi6 high-speed wireless network, provides a 3 times faster connection than WiFi5, and meets the transmission bandwidth required for high-precision scanning, making data collection smoother.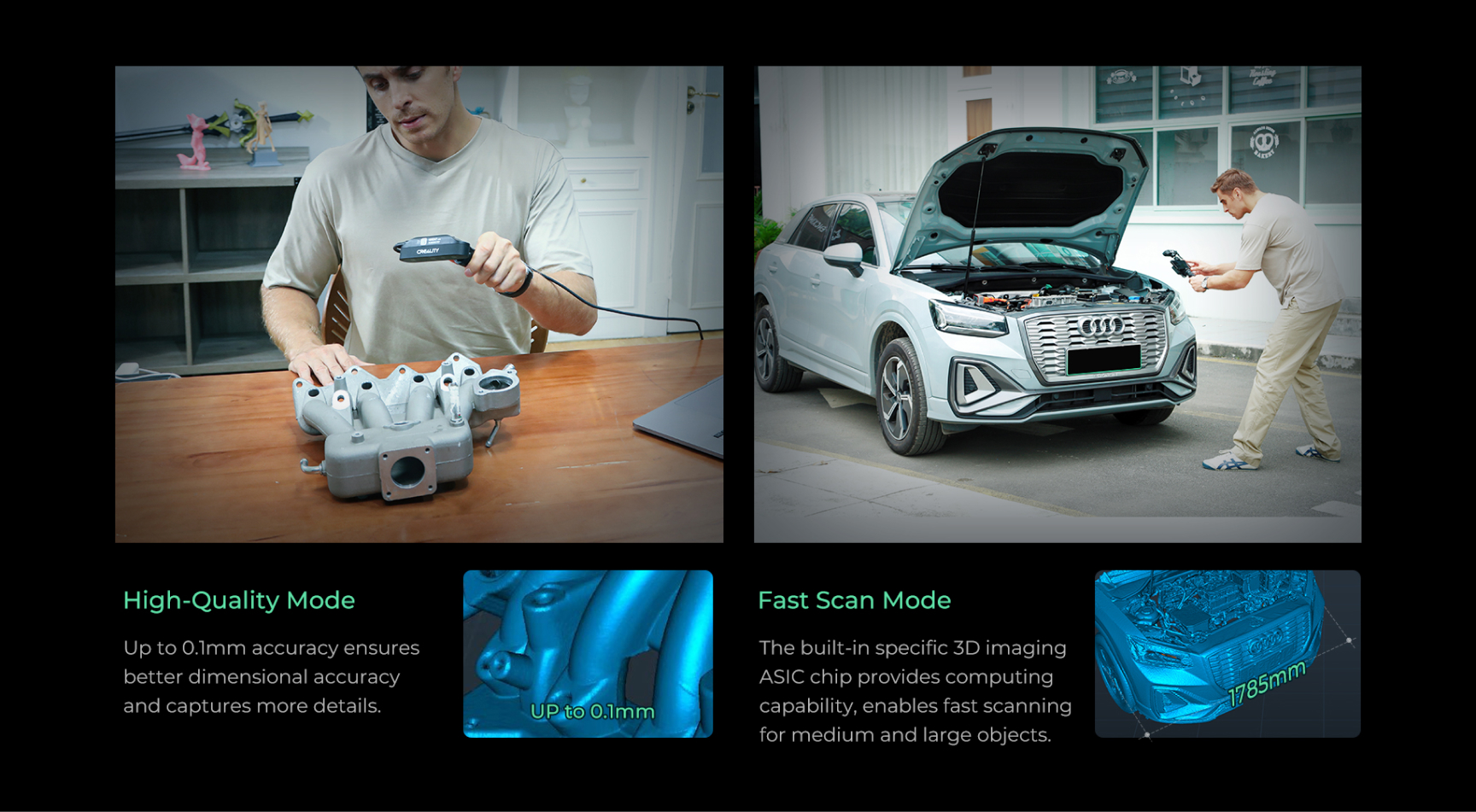 At the core of the scanner lies an ASIC chip, that allows scanning even of black or shiny objects without the need to spray a coat on the item being scanned. The higher environmental adaptability of the scanner maintains excellent performance even in sunlight (
Specifications CR-Scan Ferret Pro 3D Scanner
Resolution / point distance:
0.16 mm
Working distance:
150 – 700 mm
Frame rate / scan speed:
Up to 30 fps
Scan size:
150 – 2000 mm
Accuracy:
0.1 mm
Wireless connection:
WiFi6
Runtime:
2.5 hours
Battery capacity:
5000 mAh
Operating system:
iOS, Mac, Windows, Android
Single capture range:
560 x 820 mm
Minimum scanning:
150 x 150 mm
Physical size:
120 x 30 x 26 mm
Weight:
105g
Summary
Overall. The CR-Scan Ferret allows easy and portable scanning of items of varying sizes and surface finishes on most platforms, including Windows, iOS, Mac and Android.
If you want to scan a human being, then no problem. Scan human beings, sculptures, car parts, all via the handy and easy-to-use software.
The retail price of the CR-Scan Ferret Pro is $449.00, but it is available to super early-birds at discounted price! The super early bird price (16% OFF) is from September 19th to September 29th, and the early bird price (12% OFF) ends on October 9th.
منبع: https://3dprinting.com/news/creality-announces-wireless-cr-scan-ferret-pro-3d-scanner/