In a big step towards sustainable manufacturing, Additive Manufacturing Solutions (AMS) based in Burscough, West Lancashire, UK, has secured funding from Innovate UK for its 'Recycling and Reuse of Aerospace Materials for Additive Manufacturing' (R2AM2) project.
The initiative aims to explore the untapped potential of recycling aerospace parts into feedstock for metal additive manufacturing, while scrutinizing the processability and performance of recycled AM production.
Recent research highlights that a substantial 740 tonnes of non-ferrous metals (excluding aluminum) are available annually for recycling from retired civil aircraft. Regrettably, only a fraction of this resource is currently recycled. The R2AM2 project seeks to trigger an environmental paradigm shift in AM material utilization.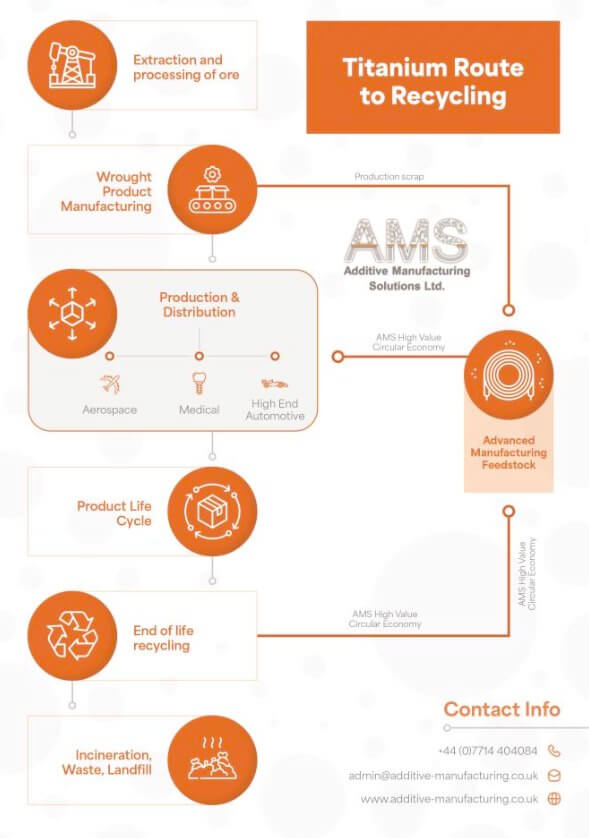 The global AM powder market is projected to surpass $1 billion this year, with titanium accounting for a significant portion. As supply constraints and rising costs loom due to geopolitical conflicts and finite resources, utilizing the approximately 600 tonnes of recycled aircraft parts becomes increasingly vital. AMS dubs this approach "high-value scrap mining" and envisions it as an alternative to resource-intensive mining practices.
"The UK was once a leader in AM technology, and we have since seen a stagnation period, with our work alongside the output of this project we aspire to enable a vibrant and highly profitable UK source of feedstock and catalyst for material producing parts for our defense, space, aerospace, and automotive industries," said Robert Higham, CEO and founder of AMS.
"Having Innovate UK support our research and development in this field is a significant and crucial step in our plans as AMS. If we are to continue with our ambitious plans to promote and increase onshore manufacturing, it is crucial we enable a secure and sustainable supply chain of product. This project is the first step in providing valuable data as to the true possibilities of high value circular economy development. We are honored to be awarded the funding to allow us to take this idea to an industrial feasibility state."
The R2AM2 project, scheduled for completion in November 2023, involves recycling scrap aerospace parts into powder for testing and subsequent use in manufacturing new parts. The data collected from these parts will provide vital insights into the viability of utilizing recycled materials for premium additive manufacturing feedstock in the UK.
Come and let us know your thoughts on our Facebook, Twitter, and LinkedIn pages, and don't forget to sign up for our weekly additive manufacturing newsletter to get all the latest stories delivered right to your inbox.
منبع: https://3dprinting.com/news/ams-receives-innovate-uk-funding-for-aerospace-am-recycling/