Boston Micro Fabrication (BMF), a specialist in ultra-high precision manufacturing solutions, has announced its debut in the dental market with UltraThineer, the world's thinnest cosmetic dental veneer. This veneer is made possible through the utilization of projection micro stereolithography (PµSL), an additive manufacturing technology that crafts veneers three times thinner than conventional alternatives, significantly reducing preparation time for dental professionals.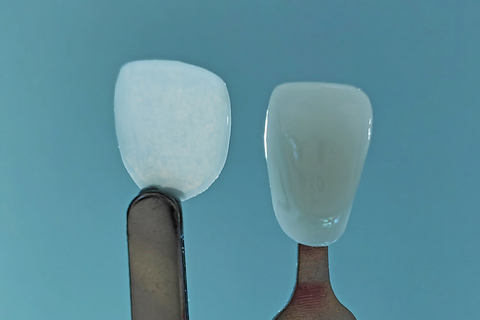 UltraThineer veneers, developed in collaboration with Peking University, usher in a new era of dental aesthetics, boasting enhanced comfort, minimal invasiveness, and preservation of patient enamel. Set to undergo FDA review, UltraThineer veneers are projected to hit the U.S. market by spring 2024.
Traditionally, veneers are roughly 0.5 mm thick and require extensive enamel removal, a cumbersome and invasive procedure. UltraThineer veneers, at a mere 100 µm thickness, offer a non-invasive solution, sparing patients discomfort while achieving impeccable results. Leading dental provider Jessica Love applauds this innovation, highlighting its potential to revolutionize the industry and inspire worldwide advancement in dentistry.
Incorporating BMF's advanced micro-scale 3D printing technology, the UltraThineer launch showcases the firm's commitment to precision and efficiency. Beyond dentistry, BMF's proprietary PµSL technology has enabled industries like electronics and medical devices to embrace miniaturization trends effectively.
"Using our unique technology, companies across industries, from electronics to medical devices, are keeping pace with the increasing miniaturization of technology," said John Kawola, CEO-Global, BMF.
"In addition to continuing to partner with our customers on their own innovations, we're excited to unveil one of the first self-developed applications of our technology. We know that patients and dentists alike can benefit from thinner veneers and are looking forward to bringing higher levels of precision to the cosmetic dental industry."
So there it is. Additive manufacturing will now potentially put a smile on many customers without the need for heavily ruining their otherwise healthy tooth substrate. You can learn more about the veneers at the company website, right here.
Come and let us know your thoughts on our Facebook, Twitter, and LinkedIn pages, and don't forget to sign up for our weekly additive manufacturing newsletter to get all the latest stories delivered right to your inbox.
منبع: https://3dprinting.com/news/worlds-thinnest-3d-printed-cosmetic-dental-veneer-unveiled/