A new aluminium alloy powder, designed specifically for additive manufacturing, has been unveiled at the AM Conclave conference in Abu Dhabi.
The alloy powder, named AMALLOY, has been developed by the Technology Innovation Institute (TII), and is the first metal additive manufacturing feedstock designed in the Middle East. Intended for use on laser beam powder bed fusion systems, the low-cost, high-strength aluminium alloy has excellent printability and performance.
Compared to the widely available AlSi10Mg alloys, AMALLOY exhibits a 33% increase in strength without compromising ductility. This makes it an ideal choice for applications requiring both lightweight properties and high strength.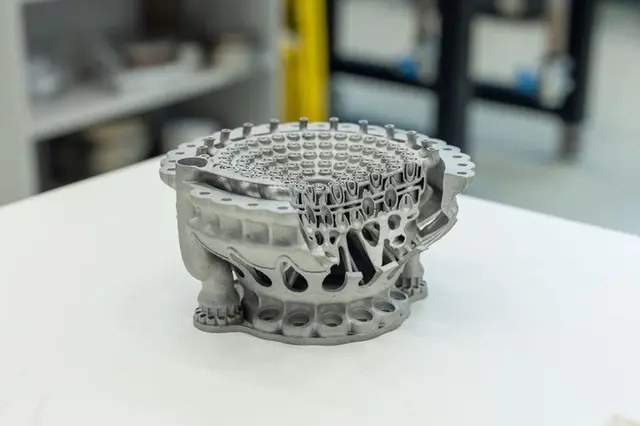 One of AMALLOY's standout features is its low hot crack susceptibility coefficient, thanks to its unique chemical composition and metallurgical compounds. This results in exceptional strength without the risk of hot cracking. Atom Probe Tomography has revealed nano-precipitates in the aluminum microstructure, further enhancing the alloy's strength.
Beyond its mechanical prowess, AMALLOY has demonstrated thermal stability up to 300ºC, making it suitable for high-temperature environments.
TII's integrated computational and experimental framework, which covers alloy design, experimentation, optimization, and more, has been instrumental in AMALLOY's success, leading to a patent filing with the US Patent Office. TII plans to apply this framework to develop alloys for various metals and traditional manufacturing processes.
The target customers for AMALLOY includes global metal powder producers, with potential licensing opportunities. Use cases range from aerospace and aviation components to high-strength engine brackets.
In its as-printed state, AMALLOY offers impressive properties such as high relative density, low hot crack susceptibility, Vickers hardness, yield strength, and ultimate tensile strength.
The development framework will further enhance AMALLOY, paving the way for high-strength aluminum alloys tailored for high-temperature applications. The material promises new possibilities across industries such as aerospace, space, oil and gas, and nuclear.
Come and let us know your thoughts on our Facebook, Twitter, and LinkedIn pages, and don't forget to sign up for our weekly additive manufacturing newsletter to get all the latest stories delivered right to your inbox.
منبع: https://3dprinting.com/news/uae-institute-unveils-first-locally-developed-metal-am-powder/