Danish company Create It Real is on a mission to help manufacturers using 3D printing to create not only end use products, but exceptional end use products. At the core of the company's operations is their REALvision software platform, with which they work with FDM partners to help achieve high quality prints.
We spoke to Create It Real CEO, Jacob Nissen, to find out how they are helping companies using additive manufacturing to level up the quality of their workflows, and ultimately, their printed parts.
Read on to learn more.
Create It Real
Based in the city of Aalborg, the Danish company has developed their own REALvision slicing software for 3D printing, and also functions as an additive manufacturing lab, specializing in developing production technology for customized orthopedic and prosthetic products. They also offer consultancy services to various bodies who want to know how to get the best from additive manufacturing.
"Allow me to emphasize our core focus, (which is) simplifying the complexities of 3D printing to make it accessible to a wide range of individuals, from beginners to seasoned industry professionals," said Nissen.
"We partner with 3D print pioneers, CFABs, and manufacturers to explore, develop, and integrate more outstanding print capabilities and strategies within FDM printing".
The company's REALvision platform plays a large role in enhancing the accessibility for users, and comes in a range of solutions, including the standalone REALvision Pro product, customizable whitelabel and enterprise options, and specialized API solutions for unique applications.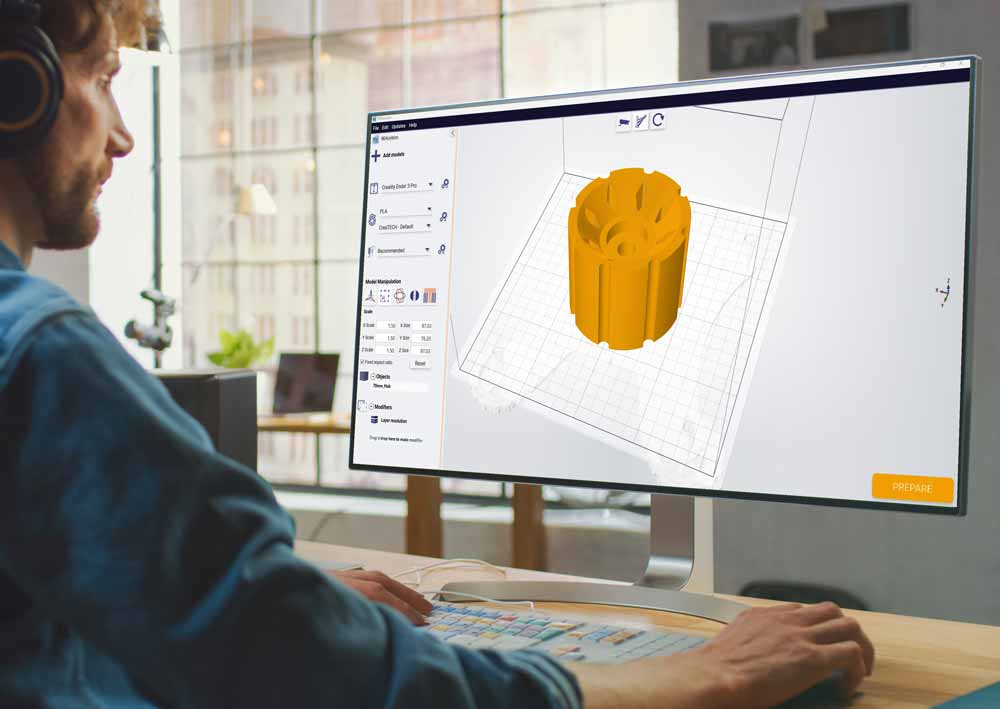 This tailored approach does not only apply to the software at Create It Real, but also applies to customer relations at the company.
"We offer comprehensive consultancy covering software and printing, mainly for corporate users operating in sectors where additive manufacturing has substantial business implications," said Nissen.
"This approach caters to businesses that prefer personalized assistance over searching through online forums for answers."
REALvision Overview
As mentioned previously, the REALVision software comes in various guises, including a standalone version (REALvision Pro), and a cloud-based version (REALview Online) which runs in your browser.
All of the versions offer common features including improved print speed, model preview, review of 3D models before print, as well as the ability to scale, rotate, and position models as needed. REALvision also includes helpful tooltips, standardized printing profiles, and material configurations, making it an intuitive software platform that does not require a steep-learning curve in order to be productive.
One outstanding feature that Create It Real is keen to point out is the accurate predictive capabilities of the software.
"Our predictions for printing time and filament usage are calculated precisely, not estimated," said Nissen.
"This means they are highly accurate and can be relied upon for production planning".
The software can be sampled before purchase thanks to a complimentary trial period that includes access to support services. While the default software has over 20 different printer profiles included as standard, if your printer is not currently supported, the support staff will work together with the customer to set up their new printer profile in the software.
"In our Corporate and Enterprise software partnerships, we offer comprehensive support covering software expertise and printing consultancy. We serve as your software partner, providing all-in-one solutions for anything related to our partners' printing technology."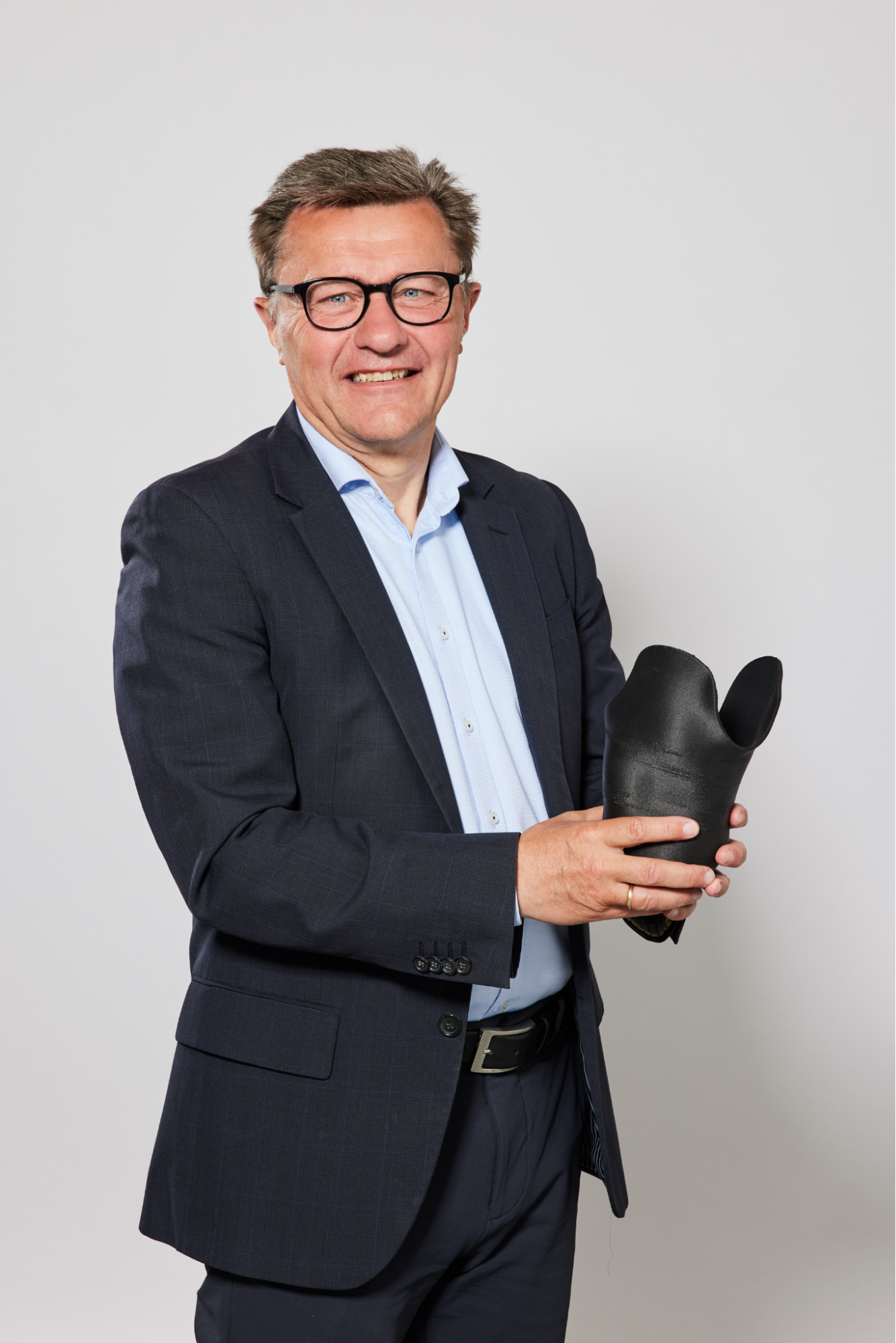 Not only is enhanced support offered, but for users within the Enterprise partnership plan, the company provides the option for custom development of a highly bespoke software solution, far beyond what the off-the-shelf varieties offer. And for those using the Pro and Online versions, users will be pleased to know that the software is continuously growing in capability also.
"The REALvision Pro product continually evolves", states the CEO.
"With REALvision Pro, we're committed to performing frequent software updates, integrating new features and plug-ins, implementing customer feedback, general optimization, and more".
FDM and Beyond
The company has been focused on FDM, but they have been developing their skills in other areas too, thanks to their partnerships and in-house capabilities.
"We are placing a strong emphasis on enhancing the quality of prints – while FDM printing has sometimes been associated with lower-quality PLA prints, it has come a long way and is now easy to start with and scalable," he says.
"Therefore, we are dedicated to strengthening the capability for producing strong prints within our software, and features supporting our strong print strategy will be introduced soon."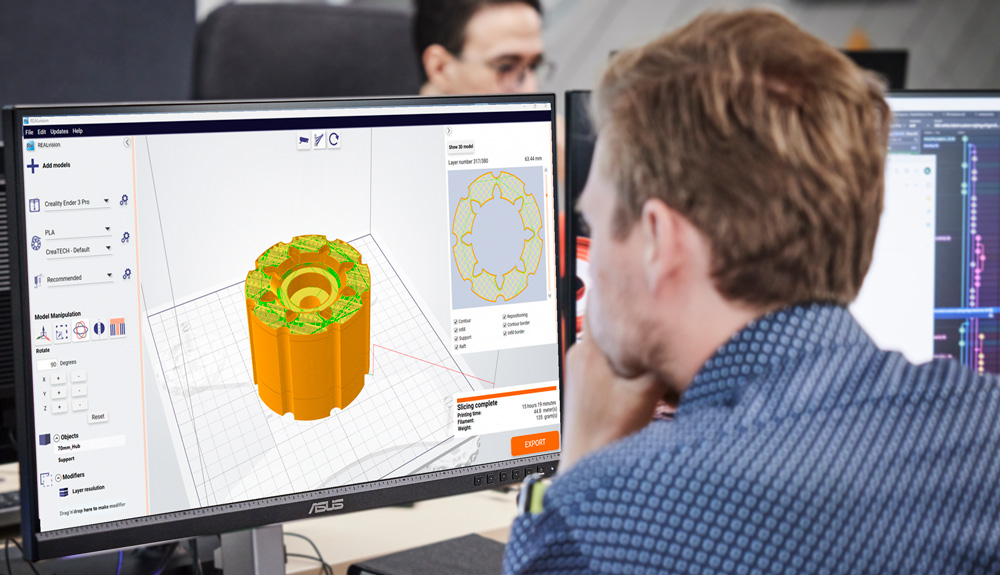 Nissen points out that beyond FDM printing, they have also been working towards enhanced quality in metal printing, where they have been working with a partner to develop an innovative approach using alternate print directions, that results in a consistent final shape, which mirrors the intended design. The company is also broadening its horizons in the thermoplastic printing domain, and is working with partners to create solutions that result in higher quality pellet printing.
Printing It Right
The overall ethos of the company is focused on increased accessibility, and helping professionals get the best out of their own in-house additive manufacturing capacities.
Additive manufacturing is already accessible to the masses, but there are various levels of quality that can be achieved depending on the processes and materials used. And Create It Real wants to make sure that consistency of product can be achieved with the help of their software, and their professional consultancy services.
Or as Jacob Nissen more succinctly puts it::
"In simpler terms, while achieving 90% in 3D printing might not be too challenging, we excel at the critical final 10% that turns a good prototype into an exceptional final product ready for end customers".
If you would like to know more about REALvision Pro, or try it out as part of the complimentary trial period, then head on over to this link.
And if you would like to view the other software solutions they offer, or avail of their consultancy services for your professional additive manufacturing needs, then head on over to the main Create It Real website.
Come and let us know your thoughts on our Facebook, Twitter, and LinkedIn pages, and don't forget to sign up for our weekly additive manufacturing newsletter to get all the latest stories delivered right to your inbox.
منبع: https://3dprinting.com/news/create-it-reals-quest-for-quality-3d-printing/